Roll over image to zoom in
Click to open expanded view
VIKAS Kerosene Stove "විකාස්" භූමිතෙල් ලිප
රු4,500.00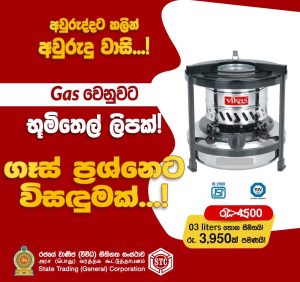 "VIKAS" STOVE
"VIKAS" stove gives blue flame just as the cooking gas, hence food is cooked rapidly and your utensils never get black
The design of the stove is fully convenient to the house - wife. It is very strong. (As a result of it, It bears the weight of your heavy utensil easily) Moreover, it is available in different attractive colours.
If this is as per instructions it saves kerosene from 30 to 35% That is why VIKAS stove means an economical stove.
This stove has a specific facility of a meter showing the proportion of kerosene.
The mode of inflaming the wick is very simple. Hence you can get more or less heat as per your requirement.
Our product having 60% thermal efficiency. Thickness of the fuel container at any place is not less than 0.40mm
This product fulfills all the requirements of I.S.-2980. Standards
'VIKAS' likes only pure kerosene. Any other fuel other than kerosene is harmful.

Always use all the ten wicks invariably in the stove. Absence of any one wick is harmful.

Do not use the stove against the straight blowing wind in the same way keep the stove away from the air circulating fan.

Do not remove stove from one place to another when inflamed.

Do not throw burning match stick on the burner.
For small utensils facility of round stand plate has been given. Make use of it.
Island wide Delivery Available.
(Delivery : within 7 Days, 24Hour Delivery Not applicable outside city limits)